Moto Guzzi Unveils Exciting Updates for 2024 V85 Lineup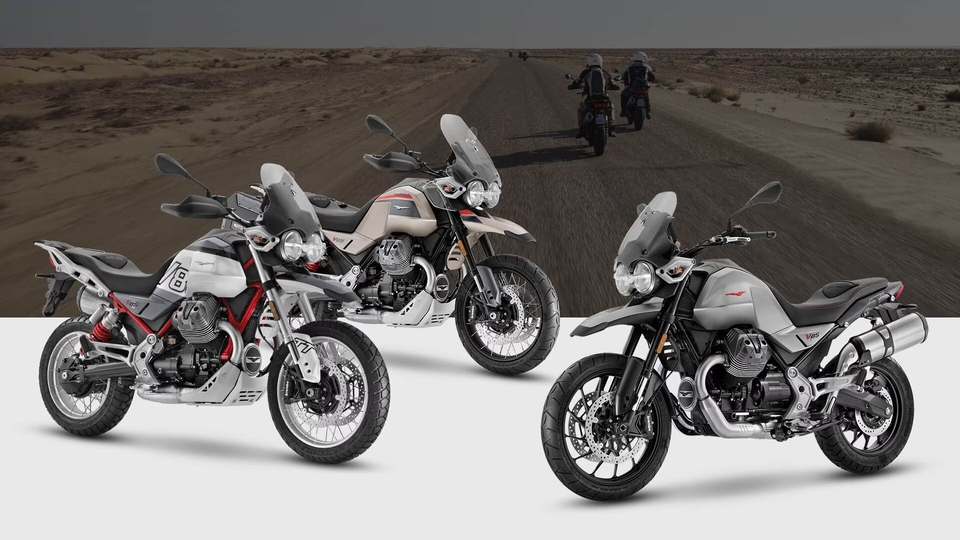 In an exciting development for motorcycle enthusiasts, Moto Guzzi has unveiled the brand new updates to their V85 lineup at the Milan Show, with inventive improvements on their popular V85 TT and V85 TT Travel, as well as introducing a whole new model called the V85 Strada. We've broken down the most significant upgrades and features of this highly anticipated range in the sections below.
Design Enhancements: Bringing Modernity and Elegance to the Iconic V85 Range
The 2024 V85 family sees some noteworthy design tweaks, making it even more contemporary and stylish. Aluminum replaces metal components for headlight supports and passenger grip handles, giving the new range an air of refinement and elegance while also ensuring that these parts are lightweight and sturdy. The windshield is now manually adjustable to offer riders optimum comfort and protection in various riding conditions.
New aluminum headlight supports and passenger grip handles
Lightweight and refined components
Manually adjustable windshield
Adding to the modern feel of the motorcycles are upgraded handlebar controls. More intuitive and practical than ever before, they aid smooth and seamless navigation on the road. Another impressive addition is the five-inch color TFT instrument cluster, which combines both functionality and style perfectly.
Impressive Technical Advancements
Not only do the 2024 V85 motorcycles benefit from sleek aesthetic enhancements, but there are also a host of technical innovations. The iconic air-cooled transverse 90° V-twin engine has been revamped with variable valve timing. In line with European emissions standards, the engine is now compliant with the Euro 5+ guidelines, making it even more environmentally friendly.
Variable valve timing on the V-twin engine
Euro 5+ emissions standard compliance
Off-Road Performance and Riding Modes
The entire range, designed with motorcycle explorers in mind, features tubeless spoked wheels for optimal off-road performance. Alongside this, the bikes are equipped with four different riding modes that optimize electronic controls, thanks to a six-axis inertial measurement unit. This allows riders to select their preferred mode with ease.
Included in the standard equipment of these models are upgraded aluminum engine guards and passenger grip handles, as well as handguards and adjustable hydraulic preload for the shock absorber spring – all specially designed to enhance the overall performance and experience on the road.
A Look at the Top-of-the-Range: The 2024 Moto Guzzi V85 TT Travel
As the pinnacle model from this family of motorcycles, the V85 TT Travel comes loaded with appealing features tailor-made for touring enthusiasts. The key tourer-specific additions include:
Hard case luggage set
Moto Guzzi MIA multimedia platform
Heated grips and seat
More protective windshield
All these components combine to ensure a comfortable and enjoyable long-distance motorcycle journey for every rider and pillion passenger alike.
The Brand New Addition: V85 Strada
Making its debut in the V85 lineup is the all-new V85 Strada. Designed to cater to the road-oriented, accessibility-focused segment of the market, this model promises to deliver a unique and exhilarating riding experience.
Details of the bike's specifications and features are yet to be revealed, but industry-watchers are eagerly awaiting more information about this promising new model.
Pricing and Availability: What We Know So Far
While Moto Guzzi has not yet announced specific pricing details or availability dates for the 2024 V85 TT, V85 TT Travel, and V85 Strada models, there is no doubt that they have generated significant excitement in the motorcycling community. Industry insiders and enthusiasts alike will be keeping a close eye on the brand as more details emerge.
In conclusion, the 2024 Moto Guzzi V85 lineup appears to build on the strong foundations of the previous models while incorporating sleek design updates and advanced technical features. Whether it's exploring off-road terrains or cruising on the open highway, these motorcycles promise an exciting and enjoyable ride for all adventurous spirits out there.